There are a number of local places where you can eat some great food both during the day and in the evening.
Wherever you decide to eat in the evening we strongly recommend you book ahead since places can get very busy with locals, rail trailers and other visitors.
The Lauder Hotel is only a 2 minute walk from the cottage and is open for lunch and evening meals seven days a week. Give Karen and Andrew a call on 03 447 3706 to book. Bookings are essential. The rail trail can get very busy in holiday season and if it's not busy the Hotel may close early. Either way you don't want to miss out.
The Stationside Café is next door but one to the cottage and is open from around 8am to 4pm, 7 days a week. Heather and Darren bake and prepare delicious and nutricious food in the café kitchen as well as serving great coffee and cold drinks.
Facebook: https://www.facebook.com/stationsidecafe/?rf=143830155746059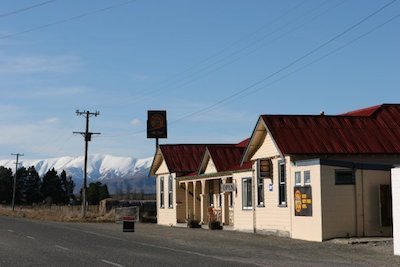 At the White Horse Hotel in Becks, 9kms north of Lauder on SH85, Karen does great pub food and Gary the publican offers a courtesy pick up/ drop off service to the cottage if you have no transport.
Phone Gary or Karen on 03 447 3685 to book and to arrange a pick up if required.
Website: https://beckshotel.co.nz/
Blacks Hotel in Ophir is 5 minutes drive near Omakau. Turn left at the service station in Omakau towards Ophir. Blacks caters for lunch, dinner, buffets and takeaways and offers a gluten free menu & a vegetarian menu! .
Website: https://blackshotel.co.nz/restaurant.html
Telephone: (03) 447 3826
Email: This email address is being protected from spambots. You need JavaScript enabled to view it.
In Omakau 7kms south of Lauder you will find:
The Muddy Creek Café offering café-style food and home-made pies during the day, with a take-away service in the early evening.
The Omakau Commercial Hotel offering bar lunches and a-la-carte evening dining. For bookings call 03 447 3715.
The historic Chatto Creek Tavern on SH85 just beyond Omakau towards Alexandra does tasty bar meals both during the day and in the evening. With its shadey beer garden, the Tavern is a popular lunch time stop for rail trailers on their way to or from Omakau. Phone the Tavern on 03 447 3710 for an evening booking.
Copyright © 2019 - 2023 Bigsky Cottages